Discover more from MSX - The Mangasplaining Extra Newsletter
The podcast, the show notes, original articles about manga and new manga, delivered to your inbox!
Over 2,000 subscribers
INTERVIEW: Masaaki Ninomiya, creator of horror manga Gannibal
The creator of a gripping, gory tale set in a secretive rural community in Japan talks about getting published in English for the first time.
Thanks to the growing interest in horror manga by creators like Junji Ito and Kazuo Umezu, there's now even more scary, creepy, gory comics from Japan available in English than ever before.
A new face on the scene (or at least for English readers) is Masaaki Ninomiya, the creator of Gannibal, a 13-volume series originally published from 2018-2021 in weekly seinen manga magazine Manga Goraku from Nihon Bungeisha (original home of Violence Jack by Go Nagai and historical action series Satsuma Gishiden by Hiroshi Hirata).
Gannibal is only Ninomiya's second serialized manga series (his previous series was Chousou no Babel, a 4-volume series about a mysterious bird that devours and transforms humans), but it's already been adapted into a live-action TV series that's just been renewed for a second season. You can watch it with English subtitles on Hulu:
So what's the story about? The description for the live-action series is a pretty good summary of this suspense-filled story set in a small town with some very dark secrets.
After causing a major incident, police officer Daigo Agawa takes his wife Yuki and daughter Mashiro to live in the remote mountain village of Kuge. It seems the perfect place for the family to recover from the ordeal, despite the mysterious disappearance of a previous officer posted there. The village thrives on forestry, with the residents making their living from cypress timber. In charge of this whole operation is the Goto family, who own most of the village. One day, the body of an old woman is found on the mountain. The Goto family says she was attacked by a bear, but Daigo notices a human bite mark on the arm. Daigo begins to suspect something is not quite right with the village.
Portland, Oregon-based comics publisher ABlaze picked up Gannibal for English publication, and is kicking things off with a special Kickstarter campaign, which is offering readers special deals on digital and hardcover editions of the entire 13-volume series, including a prestige edition boxed set, signed/sketched bookplates, and other exclusive extras that you can only get if you kick in a few bucks to their campaign before it ends on November 22, 2023.
ABlaze graciously shared this conversation with Masaaki Ninomiya with Mangasplaining Extra, which offers some interesting insights about his thoughts on being published in English for the first time, and his own experiences living in a rural community in Japan.
---
Q: You've already seen great success with Gannibal, the manga having received a live-action adaptation. Are you excited to have an English-language premier and to have your manga continue to reach a wider audience? Is there anything you'd like any new readers to know about the manga before they pick it up?
MASAAKI NINOMIYA: I'm very grateful to be published in countries around the world, but I'd heard it was difficult to get an English translation outside of the shounen genre, so when I heard the news, I thought "I'm finally getting an English version!" and was very happy.
English is the global language, after all. Even in regions where I haven't been published, I think people will be able to pick my work up, so it makes me happy to think the story I drew in my tiny, dirty room back then has grown so much. Though, I can't read any English myself!
I don't have any preferences for how readers read my work, but it makes me sad to think they'll be frightened by the cover and put off from reading it altogether, so I'd just like them to read it. 😭
Q: What other works, manga or otherwise, are your greatest artistic and storytelling influences?
MASAAKI NINOMIYA: For manga, I'd say Vagabond (by Takehiko Inoue) I might have been pretty conscious of its use of a rough brush texture.
As for other media, I'd have to say I aim for the look of those Japanese films from days when the screens were overflowing with actors, everything seemed slick and oily, and you could practically see the odor. Shōhei Imamura's period dramas are messy and wonderful. (Shohei Imamura is the director of Black Rain (1989) and The Insect Woman (1963).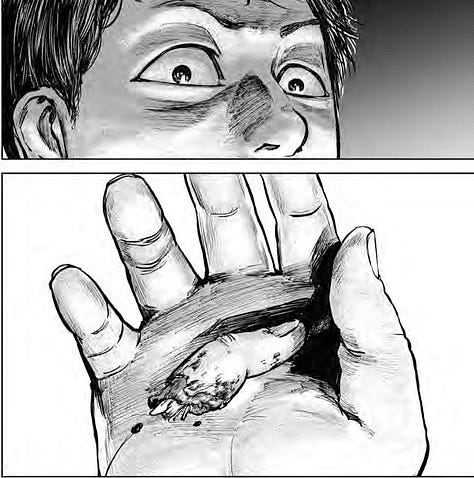 How would you personally characterize the genre of Gannibal? Is it a straightforward horror story, or are there other important genre elements that you encourage readers to latch onto?
MASAAKI NINOMIYA: I was drawing without being particular about genre, but when it was dramatized, it was advertised as a "village psycho thriller," so something like that! I did my best to write this story, so there are probably many other elements in it. If I sorted it into a genre myself, it would be along the lines of an 80% village, psycho-human-flesh-suspense-horror-emotional-ensemble-drama, I guess.
What is your artistic process? Do you prefer digital or pen-and-ink? Do you have an ideal setting to work in?
MASAAKI NINOMIYA: I overwhelmingly prefer digital. It would be more accurate to say I've almost never drawn traditionally, and I don't like the sensation of the G-pen running across the paper. I also don't like waiting for ink to dry, and I hate when it bleeds because I didn't wait before touching it, so it's almost debatable whether I would've become a mangaka if it hadn't been for digital equipment.
As for my ideal setting, anywhere is good as long as it has strong AC, and I can watch things on subscription services! I've moved now, but the environment—or rather, the room—that I wrote Gannibal in was pretty terrible…
Gannibal features an eerie, small-town setting in which locals are entrenched in their own traditions outside of the norm. Are these elements inspired by personal experiences, be it familiarity or unfamiliarity, with rural settings? Are you more of a country or city person?
MASAAKI NINOMIYA: Actually, I used to live in the countryside and moved to Tokyo because I didn't like it, so I'm absolutely more of a city person! But now I'm starting to think the countryside is nice, too.
The feeling of being enclosed exists everywhere, whether you're in the city or the countryside. I entered a company in the city made up of only locals, and they treated me like a proper outsider! The foreign entity entering any completed environment has it hard regardless of era and place.
In the future, will you continue to focus on horror manga? Are there any other genres or themes you're interested in portraying in future works?
MASAAKI NINOMIYA: I wasn't particular about horror, but people around me kept saying it was horror, so I became more and more conscious of the genre and realized there was much more I could write in the horror genre. As such, I'd like to keep writing horror. But I don't want people to say, "He only writes horror, this guy. Can't he write anything else?"
So I'd also like to write the sort of slightly difficult, prestigious literary manga that can win prizes. Gannibal didn't win anything! In Japan, that is. Japanese awards have tendencies in the types of works that win, but I'd be very happy to win an award through the English translation! Thank you very much!!
---
The ABlaze Kickstarter for Gannibal continues through November 22, 2023. Visit ABlaze's website to see more about their upcoming releases of the Gannibal graphic novels.
You can follow Masaaki Ninomiya on X/Twitter at @EneWTIVOjJrjQPO and share your thoughts about his comics creations.
ABlaze has also posted a 16-page preview of Gannibal, so you can get a taste of this suspenseful series.
MSX - The Mangasplaining Extra Newsletter is a reader-supported publication. To receive new posts and support my work, consider becoming a free or paid subscriber.