MANGA: Wandering Cat's Cage Chapter 03, by Akane Torikai
In this week's chapter, the city and the slums are explored...
Hello everyone, and welcome back to Akane Torikai's Wandering Cat's Cage. This week's installment takes us a little deeper into the slums where Sanada, Reiho and the rest of the crew live. We get a few hints about their backstories, and maybe a little lesson in traditional Asian medicine along the way too.
This week's chapter is paywalled, and therefore only available to read to paid subscribers to MSX: Mangasplaining Extra. Not a paid subscriber yet? Click the button below, and get started!
MSX - The Mangasplaining Extra Newsletter is a reader-supported publication. To receive new posts and support our work, consider becoming a free or paid subscriber.
If you missed it, or you're new to MSX, you can catch up with chapter one of Wandering Cat's Cage, or chapter two, and see the index for all of our manga series, (including our other current series, Search and Destroy) here. If you just want this week's chapter of Wandering Cat's Cage and to skip the essay below, scroll down to the title.
---
Hi all! Deb here — as the editor for Wandering Cat's Cage, I wanted to fill you in on something interesting about this week's chapter.
As I mentioned above, Asian medicinal practices introduced in this chapter. In particular, I added the note about moxibustion at the bottom of page 64 that wasn't in the Japanese version, just in case it wasn't quite clear what those little smoking wads on Sanada's ankles are.
Acupuncture and traditional Asian medicinal practices weren't a big part of my life when I was growing up, although my dad would tell me about how his grandmother (my great-grandmother, who died before I was born) used to punish him when he was naughty by using "yaito." I later learned this wasn't some mysterious form of Japanese parental-administered discipline but "moxibustion," the practice of burning small amounts of moxa, or mugwort to warm different energy points or meridians on the body to stimulate healing. Here's a photo (courtesy of the Wikipedia article I've linked above) of what this looks like: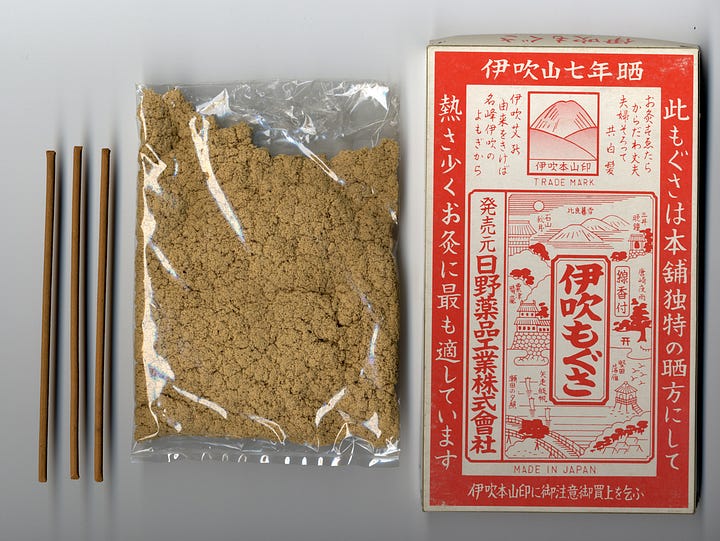 I've gone for acupuncture to help with things like stiff neck and shoulder muscles (from all this computer work). My practitioner has used moxa on me, and though I can't vouch for its efficacy, I can say that if it's used right, it just warms a small, targeted area and doesn't leave any burns on the skin.
Now, something to think about is how this detail (and a few others, like the Asian clothing that the twins wear, the street markets, the store signage, and carved balconies of their riverside home) are interesting ways that Akane Torikai lets readers know that this story is set in Asia, but not in any particular Asian country.
Anyhow, read on, and see what other secrets of the world of Wandering Cat's Cage are revealed this week.
---
Wandering Cat's Cage - Chapter 03
By Akane Torikai
Translated by Jocelyne Allen. Lettered by Sara Linsley. Edited by Deb Aoki.
CBZ and PDF versions of this chapter are at the end of this instalment for paid subscribers. Reads right-to-left. Also, it looks great on the app!
---
Keep reading with a 7-day free trial
Subscribe to MSX - The Mangasplaining Extra Newsletter to keep reading this post and get 7 days of free access to the full post archives.